Certificates
8 Best Tools to Create Certificates Online for Free
List of the best free apps you can use to create certificates. Check all the major free certificate apps. Streamline your processes and spend less time issuing certificates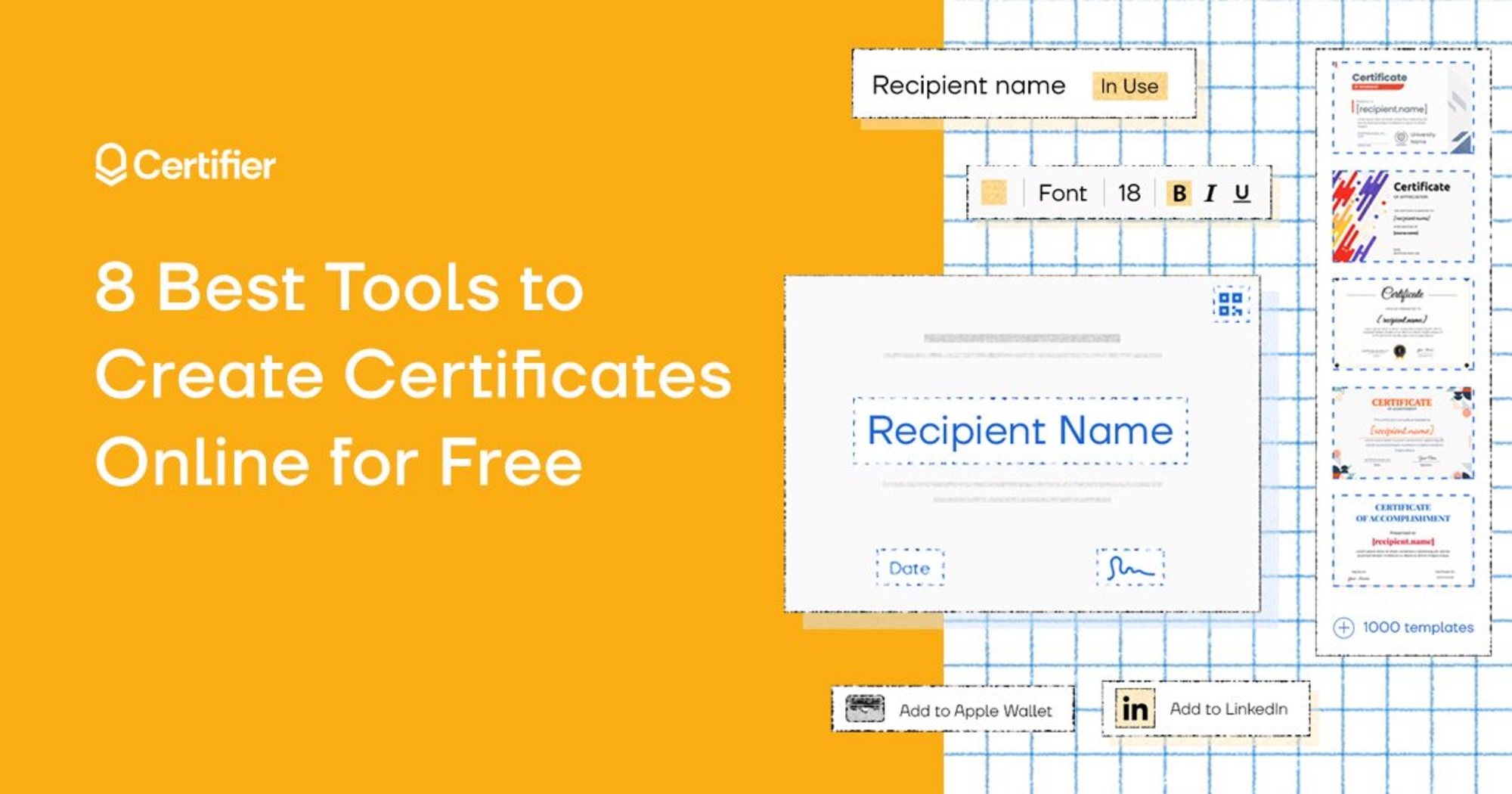 As a person conducting webinars or online courses, you might be surprised to discover the results of the recent IBM study.
According to the data from the research, issuing certificates at the end of the studying process can increase student enrollment and course completion levels by 129% and 226%, respectively. Additionally, the badge systems showed a positive impact on sales. Impressive, huh?
Luckily for you, both boosting your students' engagement and stimulating sales have never been easier these days. Just use any good certificate maker app and automate the issuing process reducing it to a couple of easy and intuitive steps.
On the other hand, choosing the most suitable certificate creator app among dozens of them proposed by the Internet may be difficult.
Fortunately, Certifier has done this painstaking work for you. We analyzed available functionalities, possible integrations, and ease of use for you to choose the most suitable solution, streamline the processes, and spend less time issuing certificates.
Read this article to discover the best free certificate generator apps you can use to create credentials.
You can find an updated list of tools here ➡️ What is the Best Certificate Maker in 2022?
#1 Certifier - design and issue certificates online for free
We would like to start our list with Certifier – the best free certificate maker app. This is a user-friendly online application that can help you create and manage certificates online. Its easy-to-use intuitive interface makes your experience smooth and seamless.
The tool provides all features necessary for building, designing, issuing, and sending certificates. This is not just a visual editor paired with templates but a real certificate creator app.
 Pros:
Best free version: excellent for a small online school or online creators.
Huge library of free certificate templates.
Powerful visual editor for editing templates or creating certificate designs from scratch.
Possibility to use dynamic elements, for example, a list of different names.
Built-in email sender for issued certificates.
Possibility to download ready documents in various formats: PDF, ZIP, etc.
Cons:
No mobile app is available to create certificates on the go (only a browser app).
All features related to creating certificates, no features dedicated to other aspects of the business, etc.
#2 Canva - free online graphic design editor
Canva is one of the most popular graphics editors. This solution offers many free slide templates for creating certificates or diplomas for students, as well as gift certificates for customers.
While not being specifically a certificate maker app, Canva is still suitable for those who need to create just a few credentials.
Pros:
Huge library of certificate design templates.
A lot of features apart from those related to creating certificates, e.g., editor of visuals for social media.
Free version available.
Cons:
No feature for creating certificates in bulk using dynamic data.
No feature for sending certificates to students via email.
The app does not specialize in certificate creation.
No feature for analytics and managing issued certificates.
#3 SimpleCert - certificate management system
SimpleCert is a complete certificate management system. This tool enables you to build personalized certificates and email templates by adding your own text and images.
Pros:
Paid package with affordable prices.
Possibility to distribute certificates (email sender).
Possibility to use and upload dynamic data.
Cons:
Limited free package (only 10 certificates available).
Bad interface and a very old app.
No API for potential integrations.
Lack of modern certificate design templates.
#4 Bannersnack - free certificate maker app
Bannersnack is a tool similar to Canva. It's also a popular online graphic editor offering lots of templates, including certificate templates. However, it doesn't provide features enabling even a basic certificate management process.
Pros:
A library is full of beautiful certificate design templates.
Functional online graphic certificate editor.
Additional features for social media and video editor.
Attractive package with up to 10 free designs.
Cons:
No possibility of uploading a recipients' list (with names, dates, etc.).
No feature enabling bulk generation of certificates.
No built-in email sender.
No features are dedicated strictly to certificates.
No option for analytics of the issued certificates.
#5 CertificateMagic - very simple certificate creator app
If you don't pay attention to the fact that the software looks like it was made in 2000, it can be pretty handy. It's a very simple solution for issuing certificates for personal needs. You can use it to create certificates for sports events, diplomas for school competitions, etc.
Pros:
A very simple tool, you can create a certificate in 2 min.
It's totally free.
This is where the pros end.
Cons:
Very limited editor features.
No registration and no possibility to store templates.
No possibility of email certificates.
No option of creating certificates in bulk (with dynamic attributes).
No option for analytics of the issued certificates.
Homepage link CertificateMagic
#6 Visme - online certificate maker app
Visme app is also very similar to Canva and is widely used to create visuals for social media posts, infographics, or presentations. It also offers features for creating certificates.
What's more, Visme provides a few more features related to certificate creation compared to other graphic editors.
Pros:
Ready-made certificate design templates.
Features enabling sending certificates via email.
Features enabling uploading elements from other documents.
Library of certificate templates.
Cons:
A very limited list of features in the free package (importing to pdf not available).
Only 26 online certificate templates are available, and 14 of them are not included in the free package.
The app does not specialize in certificates.
#7 Venngage - online editor for data visualization
Venngage is an online editor offering its users numerous templates to visualize data properly. While not being specifically created as a certificate maker app, Venngage offers a wide variety of completion and recognition certificate templates.
Pros:
A great variety of certificate templates.
Exceptional online editor with numerous features.
A lot of slide templates in addition to certificates: infographics, reports, charts, presentations, etc.
Cons:
The app was not specifically created as a certificate generator.
No possibility of uploading a recipients' list (with names, dates, etc.).
No bulk generation feature.
The limited free plan (no possibility to directly download the certificates as PDF or PNG).
Yearly commitment payment plans.
#8 Google Docs - create certificates with Google Slides
Yes, this is very popular among creators of small online courses to create certificates using Google Docs. Being free and relatively fast, yet, this is not a super professional way to issue certificates.
Pros:
Totally free. No limitations.
Comfortable Google editor, available via standard browsers.
You can connect Google Docs with other Google apps to enable the automatic creation of certificates by uploading a recipients list with names.
Cons:
No ready-made templates to use.
No ready-made features - need to create certificates from scratch.
No analytics and certificate management features.


Summary
I may be biased, but if you look closely at the features and possibilities offered by different free certificate creators, Certifier seems like the most convenient and powerful free software for creating, issuing, and sending certificates.
If you are a content creator and looking for a certificate maker, it will be the right fit for you.
To learn more, read how to create and send a certificate in 3 easy steps >
Written by
Sergey Butko
Tech entrepreneur. Forbes 30 Under 30 Europe. Digital Marketer.