Certificates
How to Generate Custom Certificates for Online School Students?
After graduating from an online school, students should receive a certificate confirming that they participated in particular courses and passed final exams. Fortunately, you don't have to create all certificates alone. A few tools can help you with that, and one of them is called Certifier.
Starting and managing an online school is always a challenge. Running classes online requires constant work, attention to detail and much help from technology.
You also need to take care of the promotion, and nowadays, it's not easy to attract the attention of those interested in online education.
It's also required to constantly change the way you share knowledge, create attractive learning materials, and encourage students to invest time studying outside school hours.
Student engagement and motivation are also essential elements that you need to enhance to help your students to participate in all classes and successfully finalize their education with your online school.
And this is what I want to focus on in this piece. After graduating from an online school, students should receive a certificate confirming that they participated in particular courses and passed final exams.
Fortunately, you don't have to create all certificates alone. A few tools can help you with that, and one of them is called Certifier.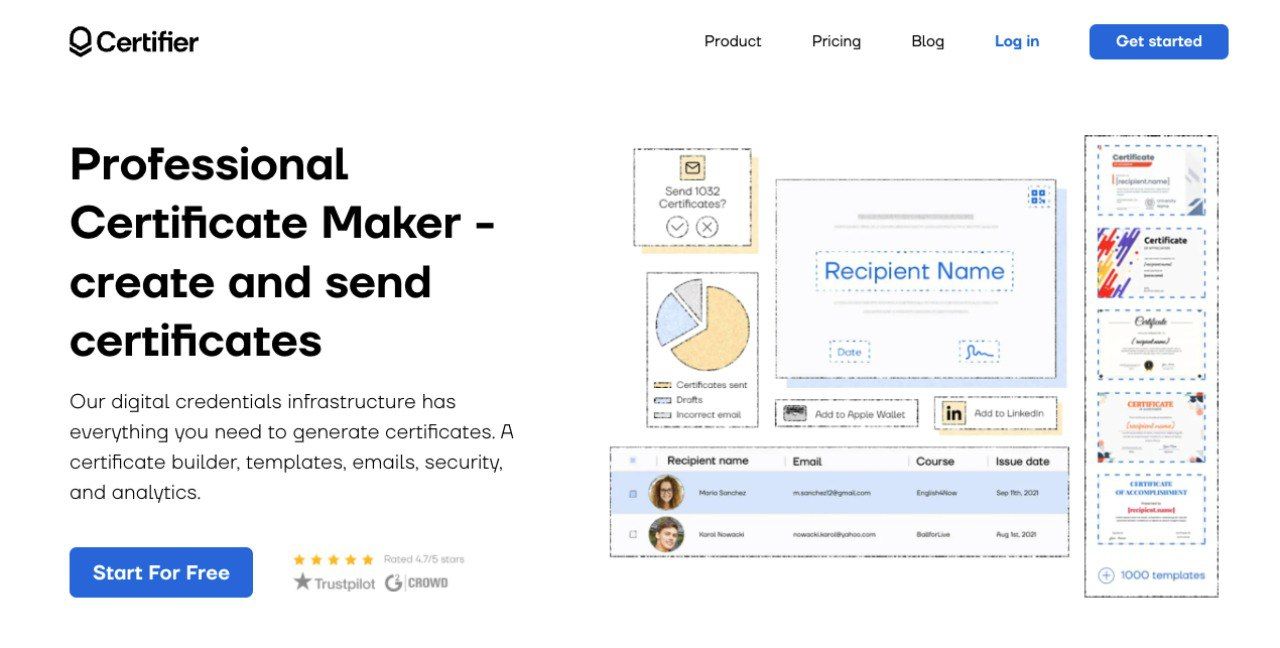 Certifier is an online certificate maker that automates the whole process of issuing and sending certificates. Keep reading to see how you can use it in your online school.
How to create certificates for online school students using Certifier
1. Create a list of students
To start creating certificates online using Certifier, you first need to create a list of students.
The best and easiest way is to either download a CSV file with students' names from an online school platform you use.
If the platform you use doesn't provide such an option, you can just list your students in an Excel file and save it as a CSV.
Just remember to keep the student's name and surname in separate columns.
2. Choose a template of certificates for online school students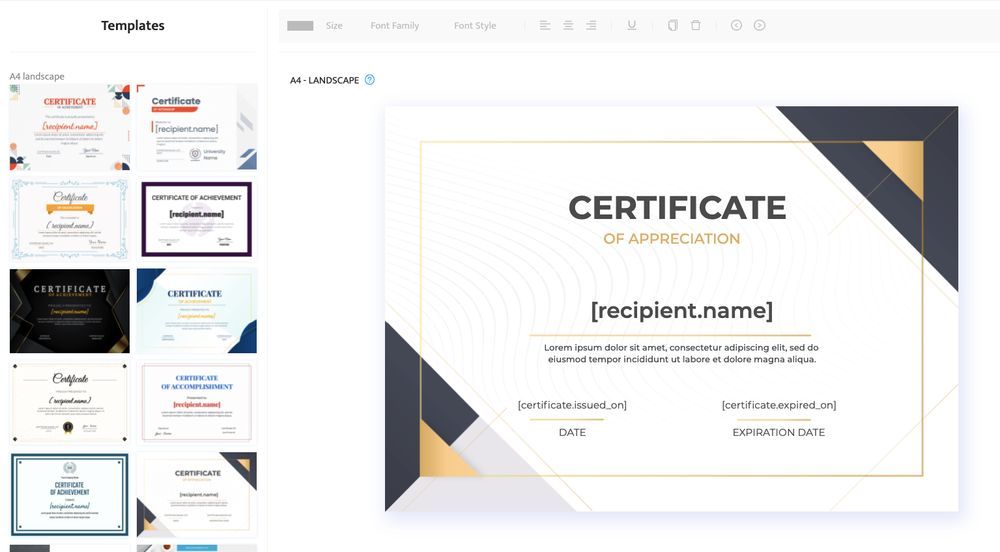 Now Certifier comes to play.
The first thing you need to do is to either choose a certificate template from a huge library of pre-made templates or create your own certificate design.
To do any of that, you need to log in to your account and select the Design tab.
Then click on the Create a new design tab.
Then, go through the library of templates mentioned above and choose a template you like or create a template from scratch.
Read this piece to learn how to design a certificate using Certifier
3. Customize the certificate design
When you know which template you are about to use or have a custom certificate design created, it's time to fill the certificate out with data.
Choose text fields you want to use on your certificate: name and surname of a student, school name, course name if applicable, student ID, date of issue, certificate ID. Some of these elements will be the same on each certificate, whereas others will be created using dynamic Attributes.
Attributes enable you to personalize each certificate because they are replaced with unique data you provide during the issuing process.
You can also choose the orientation of the certificate and its size.
4. Upload a list of online school students
Now you need to provide information that Certifier will use to fill out Attributes fields with actual data.
To do that, go to the Courses tab and select Create a New Course. In the next step, add a course and name it. It can correspond with your whole online school, a particular class, people who finalized a certain course - any group you want to create certificates for.
Then, select Issue Certificates and upload a CSV file with a list of online students.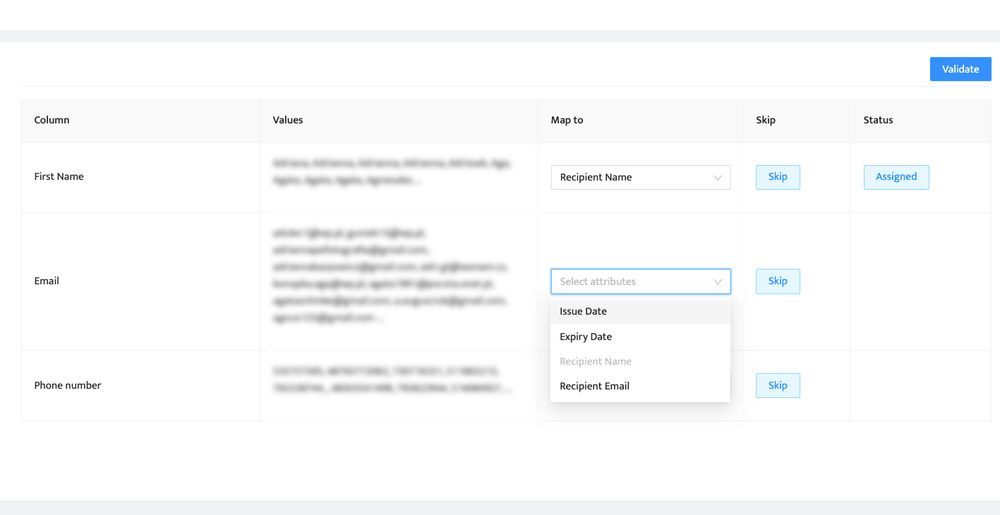 Remember that the names of columns in a CSV file must be the same as Attribute's names. Otherwise, data won't be uploaded correctly.
Now, the last step - just click Validate to upload data to the certificate maker.
5. Send certificates in bulk to all students
After clicking the Validate button, you will get personalized certificates for online students in a PDF Format. Certificates are personalized because the system replaces Attributes you placed on the certificate's template with data you provided in a CSV file.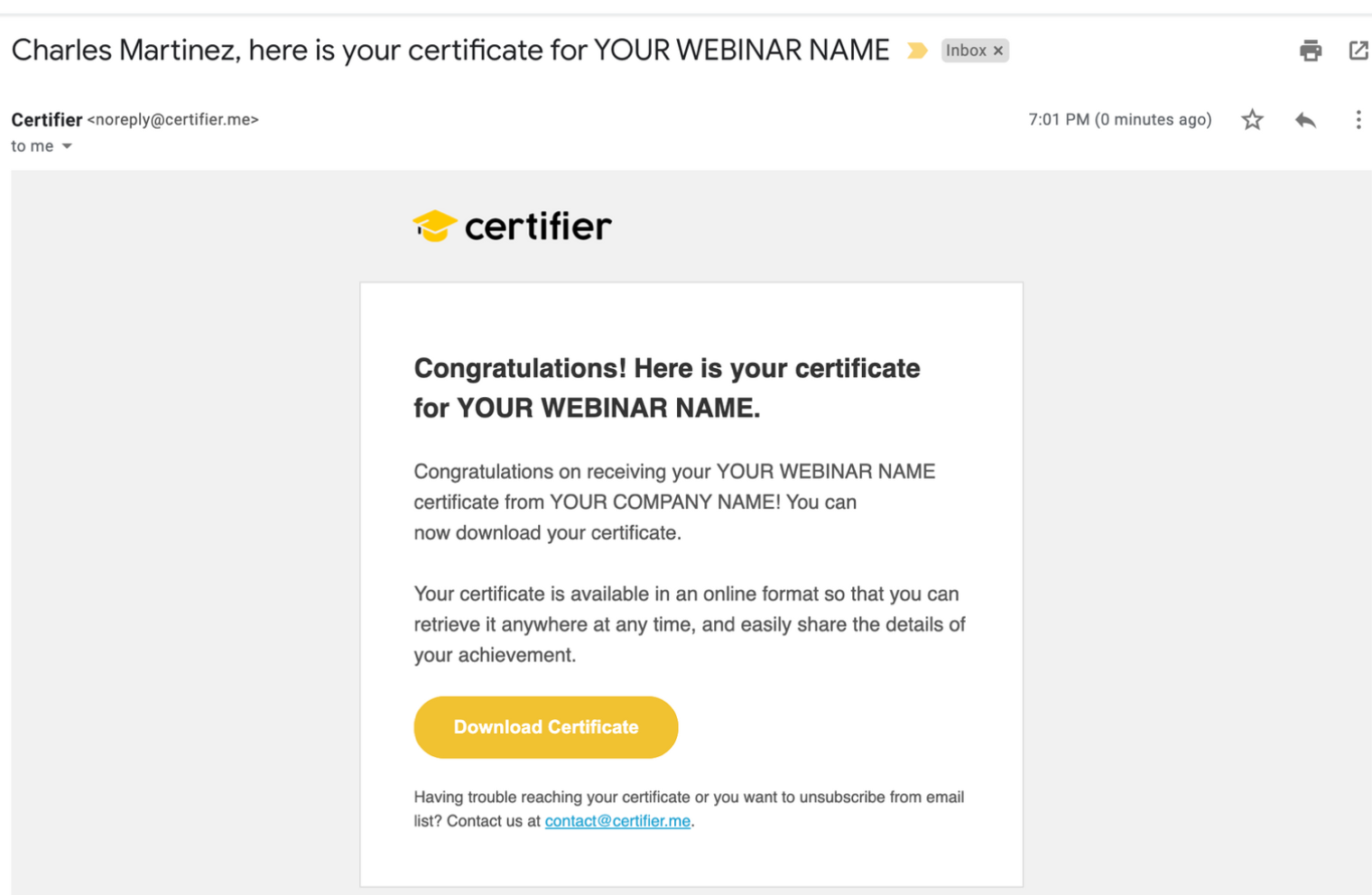 If you want to automate this process, even more, you can include a list of email addresses in the CSV file. Thanks to that, you will be able to send certificates in bulk automatically.
Then, you just need to click Publish and Send. All online students will receive a personalized certificate straight to their inboxes.
Read this article to learn more: How to send emails with certificates to multiple recipients?
Why should you generate certificates for webinar attendees?
Certificates are an important element of the user journey in every digital educational product. And yes, your online school is a digital educational product, and it also benefits from creating and distributing certificates.
First of all, personalized certificates increase students' satisfaction after graduating from your online school or finishing a class. A certificate is tangible proof that they acquired knowledge and gained new skills.
Graduates can share the certificate they received with their online network, which will also work as an additional promotional activity for your school.
What's more, issuing personalized certificates builds relationships between an online school and its students, making them more likely to enroll in other courses.
Certificates also add to your school's credibility and position it as a professional institution.
Best tools to create and run an online school
More and more people and organizations want to create online schools and organize virtual classes where they can share documents and videos or simply have a private conversation space on a web platform.
Although the online school platform chosen is only one component of online learning, it is at the forefront of your online school and has a huge influence on the way the school is perceived and assessed by existing and potential students.
Given that the platform chosen will be the place where teachers teach, and students learn, it is crucial to select an advanced platform and allow users to test it to ensure that it meets the learning objectives set. Let's look at some popular online learning platforms you can use to create a virtual school.
Moodle - learning platform designed to provide educators, administrators and learner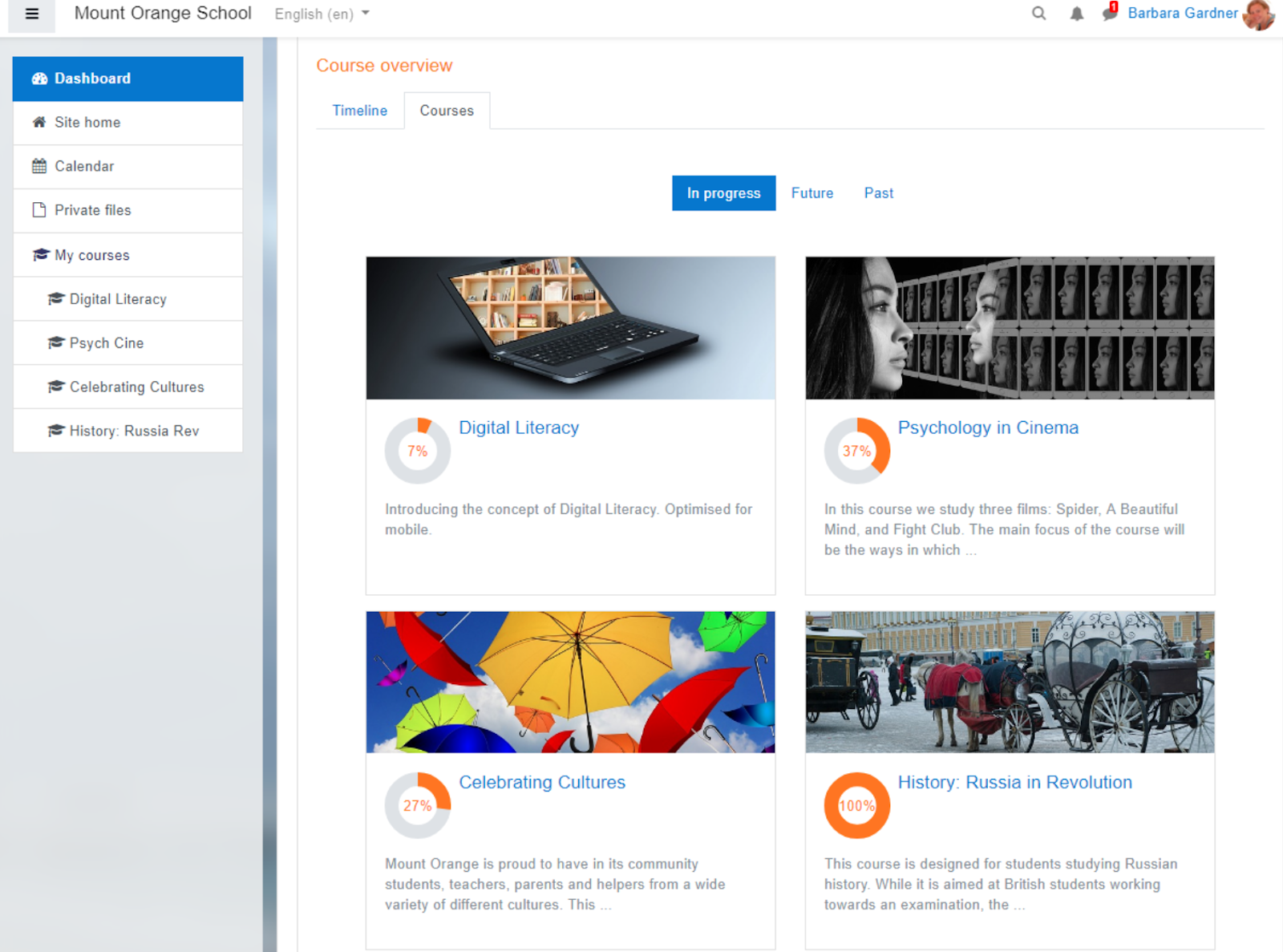 source
Moodle is a really popular choice for creating online courses. The software is free, but you will have to install it on your own server and pay for its maintenance.
As main advantages of Moodle, I would highlight:
It allows you to customize the name of your course weblink and the platform's design according to your school's branding.
It offers a wide variety of free plugins created by the educational community to increase its functionality.
It's a really advanced solution that can be used at the university level.
Schoology - set of tools to enable K-12 school districts.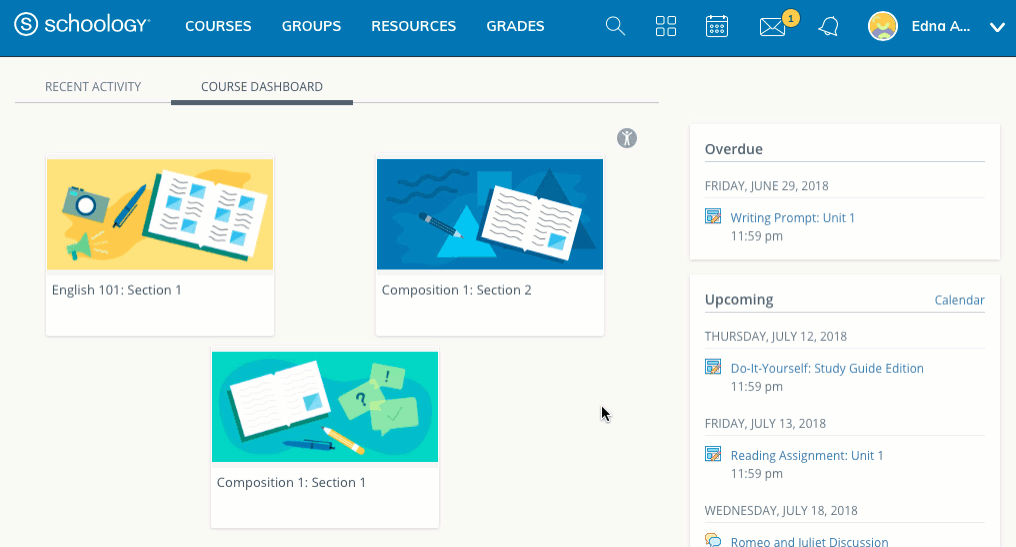 source
Schoology looks and works very similar to Moodle, with the advantage that you can create an online course or virtual classroom for free just by registering on this online platform. You do not have to deal with any installation or maintenance of the server.
In Schoology's free plan, you can create an unlimited number of courses and have as many students as you need, fulfilling the platform with high-performance availability and speed in the cloud. You can only have one teacher per course, which is a limitation of Schoology.
Compared to Moodle, Schoology allows a lower degree of customization, the look of the course is predetermined by the platform interface, and you can't install additional plugins in the free option. However, you can integrate it with cloud storage services.
If you are already familiar with Moodle, you will find it very easy to transition to Schoology because of its similarity in functionalities and interface.
Canvas - Learning Management Platform
source
Canvas is a cloud-based LMS (learning management system) platform, like Schoology, that has gained a lot of popularity in recent years due to its ease of use and the fact that it requires a low level of technical support and user training compared to Moodle.
This platform stands out for its clean and simple design, which varies from the typical interface of other LMS, making it easy for the teacher to configure the course and for the student to navigate through the published materials.
Teachable - create online courses and coaching services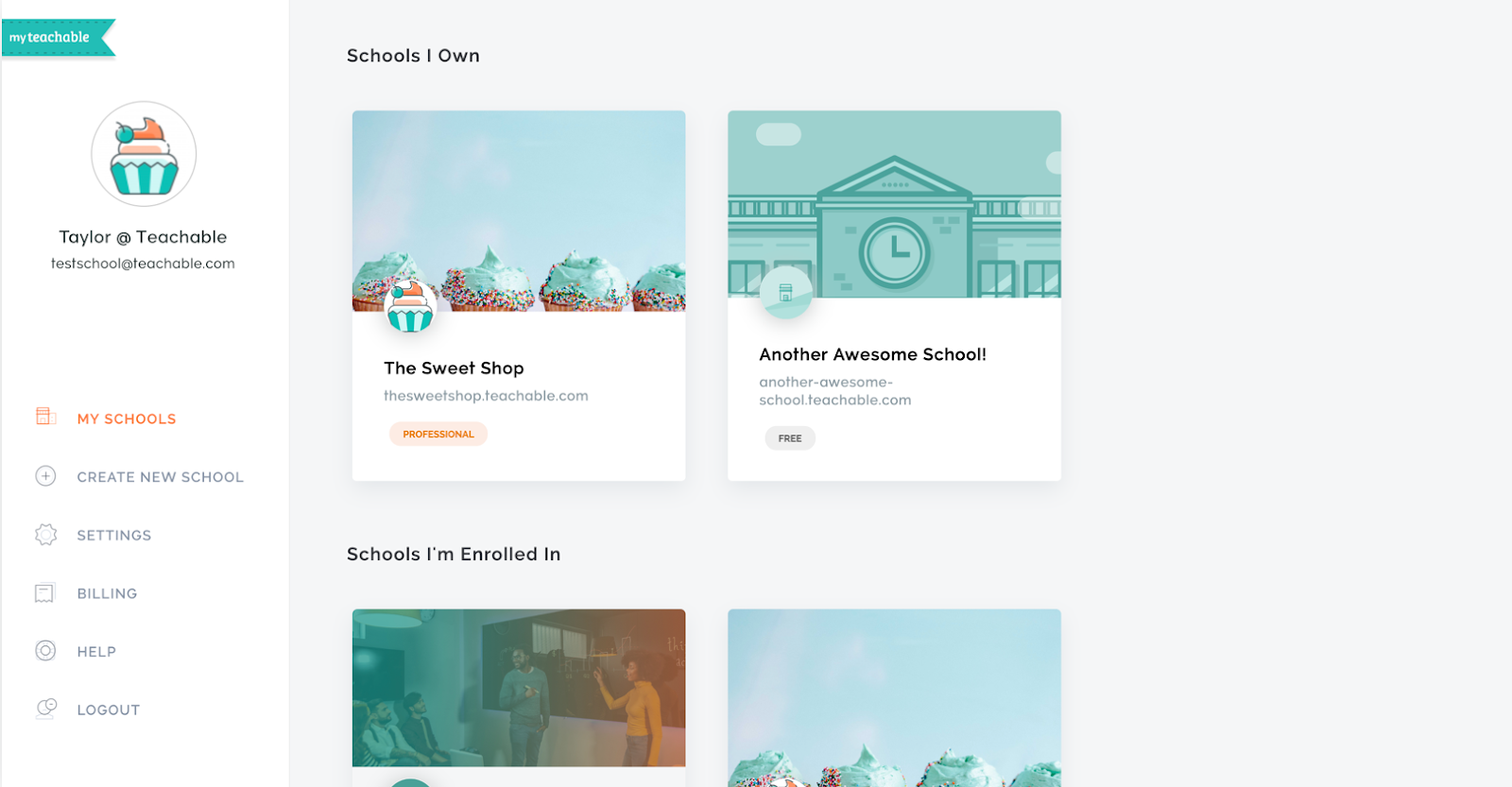 source
If you want to create an online school and sell courses without having to set up a payment system or maintain a server, you can choose a very comprehensive online platform - Teachable.
Teachable offers you an integrated secure payment gateway, so you don't have to take care of this technical part. In return, you have to pay a monthly fee for its use that differs depending on the plan you choose. Teachable also takes 5% of the amount of the price course you sell.
If your courses are free, it also allows you to use the platform at no cost. The number of courses and students is unlimited, and you can customize your course page with your logo, colors and styles.
Symbaloo Learning Paths - easy to use in the classroom.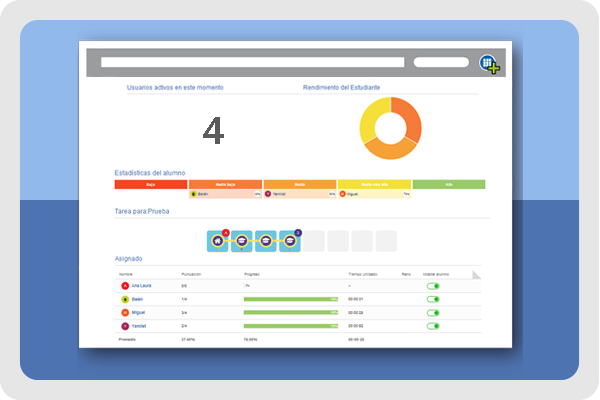 In the case of young learners, a very simple and attractive option to consider for them is Symbaloo's Lesson Plans online platform, which offers the possibility to create multimedia lessons with different learning paths customized to the learner's pace.
By simply registering, the teacher can start uploading materials. Within the blocks that each lesson consists of, the teacher can support the explanation by adding different elements such as videos, documents, questions, web pages and educational games. Then students join the lesson by simply entering a 5-digit code.
Wrap up
Creating and running an online school is a demanding and sometimes tedious task.
That's why it's worth it to automate as many processes and tasks around it as possible. It also applies to issuing and sending certificates for online school students, which are an essential element of every online school strategy.
To have this part of online school management covered, create a free Certifier account and start issuing certificates for online school students in bulk.
Written by
Sergey Butko
Tech entrepreneur. Forbes 30 Under 30 Europe. Digital Marketer.